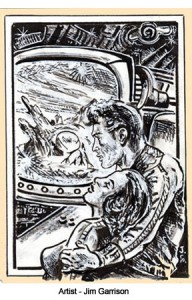 My "Lovers Under the Green Sky" is in Planetary Stories, complete with custom illustrations!  Almost like having your very own Ken Kraus adult "graphic novelette."
Planetary explorer Herschel Rexrode suspects his rocky marriage is about over. But, when his cheating wife Anna is ambushed returns profoundly changed, he faces a new problem. The "old" Anna, a competent botanist who's sacking with the station commander, is gone forever. The "new" Anna will likely prove deadly to the crew, but – hey!- she's finally the devoted, loving partner he always wanted. 
Click on Planetary Stories and click on issue #11, get a load of that cover,  or click on "Lovers Under the Green Sky" to go directly to my story.
ALSO: look for my article in the "From the Vibrating Ether" Letter section entitled: Two Tales of the Damsel in Distress.