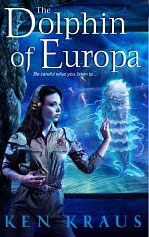 In 2152, beneath the frozen crust of Jupiter's moon Europa, a ten-year-old boy is trapped within a remote weather station, the supposed lone survivor of a deadly moon-quake. Reluctant and claustrophobic, rookie nurse Rosa Alvaro ventures from the safety of Europa's Helix City Hospital on the rescue mission headed by the station commander, the child's father. Why was the boy even stashed at this outpost, and what was her father's team hiding in the lower reaches of this facility meant to observe the moon's weather patterns above?
She'll get her answer too quickly when taken captive by Aaron Zilka, a marine biologist with a violent criminal record, who has also made his home in the lower decks. With his fellow scientists conveniently dead, he's building his own new family with the boy as his foster son and Rosa as his chosen mate.
But Zilka himself is a prisoner, under the spell of a dolphin-like creature who sends sonic messages from a window to the liquid living sea far beneath the ice. With local moon quakes building by the hour, Rosa must find a way out before she and the boy are crushed by the imploding station.
Buy on Amazon