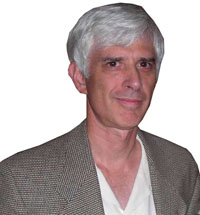 I lead several lives: family guy, businessman, ballroom dancer and a serious writer involved in seminars and critique groups for over a ten years. For the past three decades I've been professionally employed in the sale of new window technology; that's windows with glass and metal frames. Although my published credits are chiefly in science fiction, my new novel, Backwards Day, is drawn from my business life, the milieu of renovation contracting within the high end Manhattan coop market. And of course, I couldn't help throwing in elements of paranormal with a dash of sci-fi. My freelance non-fiction credits include articles describing new advances in the metal window and glass industry for technical journals such as Glass magazine, Traditional Buildings and Window & Door, as well as a lead article on Spain in the Newark Star Ledger's travel section.
In fiction, four of my short stories have appeared in science fiction Webzines. My first was "Squatters," in the July 08 issue of Aphelion, taking place in New York and even lending me a character or two for my current novel.  "Lovers Under the Green Sky," set on an alien planet, was featured the July 08 issue of Planetary Stories, with custom illustrations, no less. This might qualify as my first mini-graphic novel. Aphelion has also run two of my novellas with related characters from 150 years the future of our solar system exploration, "The Dolphin of Europa,"  in May 09, and most recently, "Vivian and the Dust" in the August 2010 issue. Links to all appear on this website.
I'm a big fan of writers connecting with other writers in both classes and writing groups, and am happy to share my experiences of what works in both cases.
Science fiction readers should find that my stories somewhat topical as they incorporate  the space thriller motifs of classic Heinlein and Ben Bova's planet series. As with both authors, my worlds have flawed characters who must face human conflict as well as formidable glitches of new technology. We are also seeing a revival of interest in NASA's planetary explorations, including new data about Saturn and its largest moon, Titan. In my  novel, Borgus and the Duke, I also add the theme of robotic interaction, popularized by Asimov, but with a new twist. Where Asimov asked how human can robots be, Borgus explores how a human might experience life and crisis from within a robotic body.
When I'm not writing or in my business genre, I'm playing with my kids, ballroom dancing or traveling the world, both in reality and sometimes, I admit, alternate universes in my head.