In 2152, beneath the frozen crust of Jupiter's moon Europa, a ten-year-old boy is trapped within a remote weather station, the supposed lone survivor of a deadly moon-quake. Reluctant and claustrophobic, rookie nurse Rosa Alvaro ventures from the safety of Europa's Helix City Hospital on the rescue mission headed by the station commander, the child's father. Why was the boy even stashed at this outpost, at what was her father's team hiding in the lower reaches of this facility meant to observe the moon's weather patterns above?
---
---
This 15,000 word novella, formerly published in Aphelion Magazine, is about a related character from Space Station Lennier in 2152. Rosa, the nurse, returns for a cameo role as well.
Vivian, a young trainee addicted to snorting mind-altering dust, is arrested for smuggling a rare ore from Titan's North Pole. The station doctor intervenes to help with her cure, but she soon learns that all her troubles lead to the station morgue where the hidden corpse of his lover appears to be regenerating.
And get this: There's a paranormal element in the story about a mist like presence that arises from a semi organic lake on Saturn's moon Titan- and wouldn't you know – there's a coincidental article in theJuly 26, 2010 NY Times Science Sectionabout growing and receding methane lakes now detected on Titan. So we're onto something here.
First published in  Aphelion Webzine: "The Dolphin of Europa" tells of an innocent nurse who becomes trapped in an underground cavern on this icy moon, with a half crazed marine biologist and a creature whose mesmerizing song feels too good to be true.
Click on the AMAZON KINDLE LINK at the top of the page to go directly to the story on Kindle.
Please feel free to write in a comment on the reader's blog as well.
"Squatters," appears in Aphelion Webzine.
JC is a boy surviving the urban jungle, considering a life of drug pushing as sponsored by his Rastafarian cousin Skip. But his first "deal" goes way bad when his contact turns out to be harboring a gang of unearthly beings who are preying upon the souls of the locals, and JC is next on their list.
Click on Aphelion Webzine to go to the webzine or on "Squatters" to go directly to the story.
Please feel free to write in a comment on the reader's blog as well.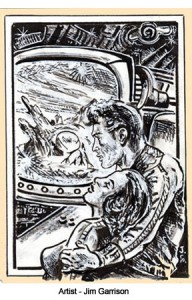 My "Lovers Under the Green Sky" is in Planetary Stories, complete with custom illustrations! Almost like having your very own Ken Kraus adult "graphic novelette."
Planetary explorer Herschel Rexrode suspects his rocky marriage is about over. But, when his cheating wife Anna is ambushed returns profoundly changed, he faces a new problem. The "old" Anna, a competent botanist who's sacking with the station commander, is gone forever. The "new" Anna will likely prove deadly to the crew, but – hey!- she's finally the devoted, loving partner he always wanted.
Click on Planetary Stories and click on issue #11, get a load of that cover, or click on "Lovers Under the Green Sky" to go directly to my story.
ALSO: look for my article in the "From the Vibrating Ether" Letter section entitled: Two Tales of the Damsel in Distress.